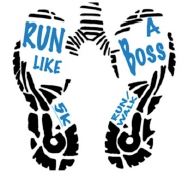 Matt Boss is in need of a double lung transplant due to a very rare lung disease process that falls under the umbrella of Interstitial Lung Disease (ILD). Although he does have health insurance, his coverage is limited and therefore will not cover all of the expenses that go along with a transplant.  This procedure will involve traveling out of state and donations will go towards accommodations and procedure costs.
*To all of the participants and sponsors, it is with great sadness that we tell you Matt Boss passed away on April 30th. Though he is now whole and healthy again in the arms of Jesus, he will be missed dearly by many, especially his sweet family. His family would like the race to still take place, so we'll be holding it in his memory and we look forward to a special morning running for Matt!  Please keep his family in your prayers! You can still sign up to run at the link or on race day!
All proceeds will be donated to a family who qualifies.
The race starts at 8 am. Packet pickup will be before the race starting at 7 am.